Your educational reference textbook to stay up-to-date with all the latest knowledge and skills in your field!
The PCR-EAPCI Percutaneous Interventional Cardiovascular Medicine Textbook is a first of its kind, all-inclusive reference whose scope and content is patient-centered and promotes good, evidence-based clinical practices.
123 illustrated chapters dedicated to diagnosis, coronary interventions, structural heart disease, and peripheral interventions
Covers everything clinical and practical that today's interventional cardiologist needs to know
A handy Addendum section to be kept informed straight away when new data, guidelines and consensus first appear!
This Textbook includes:
Part I – Foundations of interventional cardiovascular medicine
Part II – Diagnostic cardiovascular modalities and their application
Part III – Percutaneous interventions for cardiovascular disease
Part IV – Interventional cardiovascular medicine into context
Part V – Annexes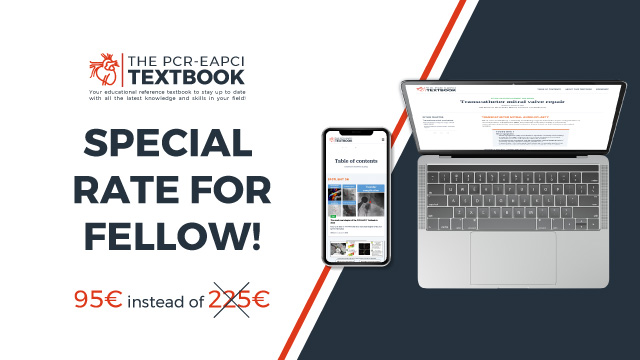 Fellows-only offer: an exceptional rate for a unique audience